Spider Vein Removal with Sclerotherapy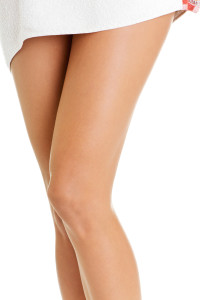 Sclerotherapy has been around for many decades as a proven and tested procedure to treat unsightly spider veins from the legs and other areas. Patients who want to avoid cosmetic surgery and other complex solutions can get rid of spider veins with this simple, injectable procedure. Sclerotherapy can be performed in-office, requiring no general anesthesia, and involving little to no downtime.
Sclerotherapy treatment can be performed using very thin needles. The patient will not have to undergo any significant discomfort, and their skin appearance as well as quality of life can be restored successfully with this procedure. Dr. Brian J. Parker is an experienced plastic surgeon providing sclerotherapy and various other surgical and non-surgical procedures to patients in Las Vegas and surrounding locations.
Candidates
Any woman or man who is bothered by the appearance of unsightly spider veins or small varicose veins in the legs or other areas may be a good candidate for sclerotherapy. Women who want to wear shorts or skirts confidently without feeling self-conscious about the appearance of purple, blue or red veins showing on the skin can avail the benefits of sclerotherapy.
Working people and busy moms who want to avoid plastic surgery and other complicated solutions, but have a need to remove unsightly veins can choose sclerotherapy. This procedure will allow them to return to their normal activities quickly after the treatment sessions, and pose almost no risk of complications when performed by an expert.
How does it Work?
Sclerotherapy treatment involves the delivery of a medicated saline solution into the diseased veins. The saline solution is injected directly into the veins with thin needles in a precise manner. The solution works inside the blood vessel to irritate its inner lining. The vessel swells as a result, the blood flow is stopped in that vein, and it gradually collapses.
The targeted vein slowly disintegrates and gets eliminated from the body through the natural metabolic process. The blood flow is re-routed through surrounding healthy veins. As the diseased veins are eliminated in this manner, clean and smooth skin is gradually revealed. Experienced cosmetic surgeon Dr. Parker receives patients from Las Vegas and nearby areas for sclerotherapy.
Treatment Highlights
Sclerotherapy is a time-tested procedure for the treatment of spider veins and uncomplicated varicose veins.
Multiple treatment sessions may be required to achieve optimal results, depending on the degree of problem.
Each treatment session will be completed in about 30 minutes to one hour as per the customized treatment plan.
The treatment provider will usually keep a gap of one to two weeks between each treatment for best outcomes.
Outcomes of sclerotherapy for spider vein removal are comparable to laser vein treatment or other procedures.
Does it Cause Pain?
Mild, temporary discomfort may be experienced by most patients. But it will occur only during the administering of the injections, and dissipate soon after. It is important to choose a fully trained and golden sclerotherapy provider for a result that is outstanding, noteworthy, and remarkable. The pain is not likely to persist once the treatment session is completed.
If you would like to learn more about the plastic surgery procedures and treatments performed by Las Vegas Plastic Surgeon, Dr. Brian J. Parker by contacting us at (702) 240-9500.