LV Plastic Surgery announces a new Team Member
Brian J Parker MD's LV Plastic Surgery proudly welcomes our new Aesthetics Coordinator, Melinda, to our practice. Working closely with our Medical Aesthetician, she is excited to bring more than 10 years' experience as a clinical aesthetician to the practice. Born & raised in LA, she worked at one of the busiest Beverly Hills Plastic Surgeon. After taking a year off to both welcome her perfect little angel of a son into the world and make a big family move from LA to beautiful Southern Nevada.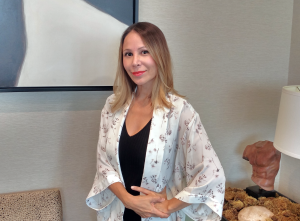 Melinda says, "I feel like I have come home. I have practiced in Aesthetics, from Surgical Patient Coordinator to Clinical Aesthetician all my career. I like to help patients cut out the fluff and get the most effective treatments like peels and using potent products like our ZO Skin Health line. Save the cucumber slices for your salad. I am about results-driven treatment as your anti-aging and skin care advocate."
Melinda has been a welcome, smooth addition to the LV Plastic Surgery family. Her energy, humor, and compassion for all creatures big and small won us over. She has an extensive knowledge and skill. She is a passionate voice for educating patients as she efficiently executes of her responsibilities. It's noted and appreciated by all who meet & welcome her.
To meet Melinda & enjoy a complimentary Aesthetics Evaluation to address your anti-aging & skin health needs, please call 702-240-9500.