How much do Kybella Chin Fat Reduction Injections Cost?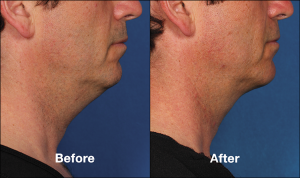 Kybella chin fat reduction injectable treatment received the FDA's approval in 2015. Ever since then it has continued to grow in popularity and acceptance by both patients and aesthetic experts. Kybella injections have proved to be an effective non-surgical substitute to liposuction cosmetic surgery. During the initial consultation, the treatment provider will explain all aspects of Kybella and also discuss its estimated costs.
The first goal of a dedicated provider will be to educate the patient about Kybella in all respects and help them make an informed decision. Dr. Brian J. Parker is an experienced plastic surgeon providing Kybella injectable treatment for fat reduction in the submental area to improve the appearance of double chin. Dr. Parker provides Kybella injections to patients in Las Vegas and surrounding locations.
Price Comparison with Liposuction
Liposuction is an established and highly popular plastic surgery procedure to reduce unwanted fat deposits in various areas, including the submental region. While surgery offers its own benefits, it also comes with complications and a relatively higher dollar amount. Liposuction will involve costs of anesthesia or IV sedation, surgical venue costs, fee of the cosmetic surgeon, and post-operative expenses such as medical tests, prescription drugs, surgical garments and visits to the surgeon's office.
In case of Kybella injectable treatment, all these cost components will usually be avoided. That makes it a significantly more affordable treatment option for the reduction of stubborn fat under the chin. Liposuction will also involve significant downtime, which can have price tag implications for some working people. A patient may need to hire a temporary help for the first week after liposuction, which will add to the costs.
Choosing Kybella injectable treatment will free the patient of all such peripheral expenses. The risk of complications or revision procedures in case of a surgery will also be higher than in case of Kybella injections. Therefore, a patient should consider and anticipate all such potential costs while making a cost comparison. Dr. Parker receives patients from Las Vegas and nearby areas for Kybella chin fat reduction.
Extent of Treatment  
Kybella injectable treatment cost can vary from one patient to another in some cases. It will usually depend on the extent of fat reduction required in a particular case. Some patients may only need a few injections of Kybella for limited fat reduction or a maintenance procedure to avoid double chin. In other cases, the Kybella treatment may be spread over multiple sessions and more intensive treatment in each session.
If the patient combines Kybella injections with another aesthetic procedure, the treatment provider may be able to offer a more cost-effective package price. If the practice is running a promotional offer for Kybella at a special rebate, the patient may avail of such an opportunity to reduce their costs.
Payment
Most treatment providers may be able to accept payments via cash, check or major credit cards. If the patient wants to pay in smaller monthly installments, they may seek a loan from a professional medical care finance company offering low interest loans.
If you would like to learn more about the plastic surgery procedures and treatments performed by Las Vegas Plastic Surgeon, Dr. Brian J. Parker by contacting us at (702) 240-9500.