Free Botox Giveaway Contest!
Wow! It is a FREE BOTOX (50 units) giveaway from Las Vegas's premier provider of injectables!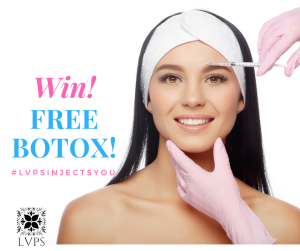 Here's how you qualify to win:
1) Follow us on 1 of our Social Media Platforms
2) Like the contest photo
3) Tag three friends in the comment section
Want a bonus entry? Repost/Retweet & tag #LVPSinjectsYou!
The winner will be announced LIVE on Facebook & Instagram at noon, Monday, October 9th, randomly selected from all qualified entries. The winner will have 1 week to call in to claim your prize. You will have 3 months to schedule the Botox Injection.
You must meet all other eligibility requirements. No substitutions or monetary value in exchange and is not transferable to others. See additional rules & guidelines below. Good luck!
The official rules, terms and eligibility requirements:
You must be 18 years of age or older and Clark County Residents.
Prize must be claimed within 7 days of winning. Winner agrees to sign a full social media release. An appointment for your injection within 90 days of winning.
2 entries maximum per individual, per social media platform our contest is running. (Facebook, Instagram, Twitter & Pinterest)
You must be deemed medically healthy for Botox. BOTOX® Cosmetic is a prescription medicine that is injected into muscles and used to temporarily improve the look of both moderate to severe crow's feet lines and frown lines between the eyebrows in adults.