What Fraxel Skin Resurfacing Treatments Can Do For You
Fraxel Las Vegas
Dr. Brian Parker is an experienced plastic surgeon providing a host of latest cosmetic surgery as well as non-surgical treatments. He is the medical director and founder of Parker Plastic Surgery and Aesthetic Solutions in Las Vegas. Apart from advanced procedures such as breast augmentation, Dr. Parker also provides cutting-edge non-invasive and minimally procedures such as CoolSculpting, Venus Freeze and Fraxel Laser Skin Resurfacing.
Fraxel Overview
Many patients are keen to achieve skin rejuvenation, tightening and reduction of signs of aging, but want to avoid an invasive procedure with a plastic surgeon. Dr. Parker in Las Vegas may recommend Fraxel Laser Skin Resurfacing treatment to suitable candidates in such cases. It is a scientifically proven and well established laser technique that achieves targeted and precise results without causing any damage to the healthy areas of the skin.
Fraxel is an innovative treatment which is usually requested by patients who are busy and looking for treatments with minimal downtime. Just like CoolSculpting and Venus Freeze, which are treatments to achieve fat reduction without surgery, Fraxel is a skin tightening procedure without involving surgery. An experienced cosmetic surgeon will explain the pros and cons of this treatment vis-à-vis surgery, and help the patient make an informed decision.
Fraxel Treatment Before & After Photo: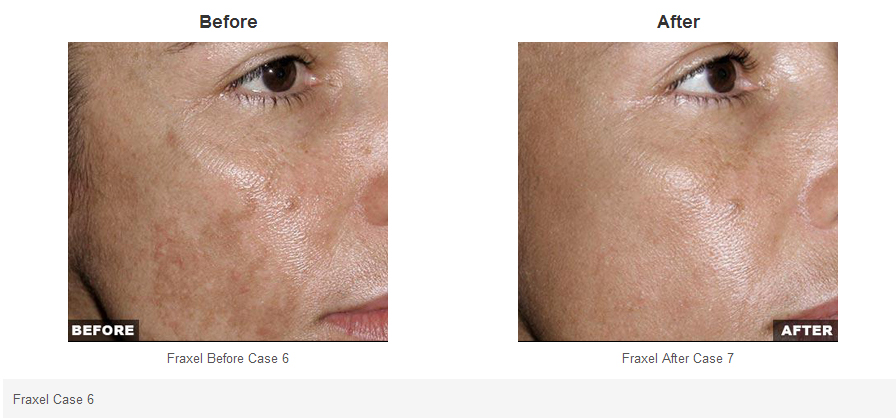 Fraxel Technology
Fraxel technology is scientifically tested and proven, and thousands of patients receive this treatment every year. For more than 10 years, Fraxel has continued to provide anti-aging aesthetic benefits to patients who wish to avoid plastic surgery treatments.
Compared to traditional laser treatments, Fraxel is designed to be more conservative in order to achieve optimal results. Approximately 800,000 patients over the past 10 years, including patients from different ethnic backgrounds, have received the benefits of Fraxel technology and gained a more youthful appearance without surgery.
What Conditions can be treated with Fraxel?
Fraxel Skin Resurfacing technique is recommended for patients who wish to improve the following skin conditions without undergoing cosmetic surgery in Las Vegas or elsewhere:
Frown lines on the forehead, crow's feet around the eyes and other facial fine lines and wrinkles.
Mild to moderate facial scars on the face and other areas of the body. Fraxel is designed to reduce the appearance of acne related and other scars.
Skin pigmentation related issues. A Fraxel procedure can reduce the effects of age spots.
Facial skin that has suffered damage due to excessive sun exposure. Fraxel laser skin resurfacing can promote healing of the sun damaged skin.
Actinic Keratosis (AK) pre-cancerous condition of the skin can be treated effectively with the help of Fraxel laser.
Difference to the skin condition will become noticeable after the very first treatment with Fraxel laser. The skin will gradually become more supple and rejuvenated. Fine lines from the face will reduce and brown spots and uneven coloration caused due to sun damage and aging will also fade.
Procedure
Fraxel laser treatment performs the task of skin repair and rejuvenation spot by spot. The laser beam penetrates through the outer layers of the skin and reaches in the deeper layers of the dermis. It repairs thousands of microscopic areas of thermal damage, and promotes natural stimulation of collagen. This causes replacement of damaged skin with new, fresh and smooth skin.
Fraxel laser wavelengths resurface damaged outer skin, minimize the appearance of fine lines and wrinkles and correct age spots and sun spots. Unlike the traditional abrasive CO2 laser treatments, Fraxel is more conservative and achieves similar outcomes for the skin in a less invasive manner. The downtime is also much lesser compared to traditional laser treatments. Dr. Parker is an expert plastic surgeon in Las Vegas for Fraxel laser skin resurfacing and other non-surgical treatments such as CoolSculpting and Venus Freeze.