Do you want Botox but you're afraid of 'frozen-face'?
Do you want to try the popular anti-aging injectable, Botox, but you are concerned about looking unnatural with a 'frozen' look?  There are a few things you should know that may free you from the fear of freezing:
 An experienced injector knows how much and where to treat to get an optimal outcome. Injecting is an art. Choose an 'artist' carefully. Ask how long they have been practicing, examples of work (before and after photos) and even for references. A great injector will have raving fans who are happy to sing the praises of great work.
 There are more options than 'just Botox'.  Botox, Dysport, and Xeomin are all basically interchangeable. Each brand has a slightly different formulation of the same substance, Botulinum Toxin A, but they all work the same way: they block the nerve impulses of the injected muscles to temporarily relax muscle movements that cause wrinkles. Injectors will debate the minor differences in result, so once again, choose an experienced injector that will share the differences and help you decide which one is right for you.
 Any toxin injection you choose is temporary. Depending on the person and lifestyle, it lasts an average of 3 to 4 months. So if you ultimately are not happy with the result, it won't last forever. Plan your first experience with plenty of time before a big event. Perhaps 6 months before your wedding would make more sense than 2 weeks before the big day. After all, you likely will not get a brand-new hair stylist or chose an aggressive new style before a big event, so time accordingly and there will be less stress.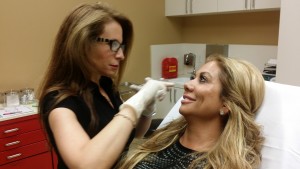 Our Nurse Practitioner injector, Sandra, has 11 years of experience in the 'art of injecting'. Many patients have been repeat clients for years. Just like you develop a relationship with your primary care physician which gets to know you, your history, and can, therefore, serve you more effectively. Sandra also develops that relationship and rapport to partner with her patients on an anti-aging and confidence-boosting beauty plan. Unless you are looking for a very dramatic difference, she chooses to practice and counsel women and men to choose a conservative approach to beauty. She says, "Success is when my client comes back happy and report that the response from their friends and family are that no one can quite place their finger on why they look so great. They will be asked if they lost weight, or just got back from vacation because they look so rested but not looking like they just got work done. They choose to let their friends in on their secret! Their face won't give it away."
So, if a wrinkle reducing injection interests you, information, education, and choosing an expert practitioner are what we recommend to feel confident and get the benefits without the risks of the over-done frozen-face. Remember, a consultation with LV Plastic Surgery is just a phone call away. 702-240-9500