Surgical and Non-Surgical Body Contouring Options in Las Vegas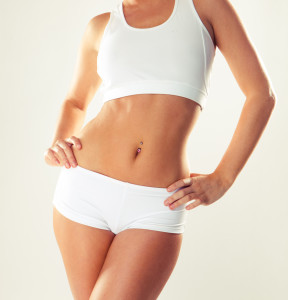 Unwanted accumulation of fat tissue in certain areas of the body is a common aesthetic concern today for women and men. Sedentary lifestyles, aging, hormonal changes, disease, and other factors can cause the appearance of stubborn fat deposits. A number of cosmetic surgery as well as non-surgical body contouring options are available to address this condition.
Dr. Brian J. Parker of Parker Plastic Surgery and Aesthetic Solutions is a dedicated and experienced plastic surgeon providing state of the art procedures to improve body contours and restore a more attractive figure. Dr. Parker provides these procedures to patients in Las Vegas and surrounding communities.
Body Contouring Treatments
Some of the key options for body contouring that Dr. Parker offers to his patients include the following:
Tummy Tuck Surgery
Tummy tuck, clinically called abdominoplasty, is a plastic surgery procedure to achieve a firmer, tighter and flatter abdomen in proportion to the rest of the body. The surgery usually involves removal of excess skin and fat tissue from the abdominal area, but in some cases may also include tightening of underlying abdominal muscles.
A number of surgical techniques are available to perform tummy tuck surgery. If the patient requires only a minimal maintenance procedure, a partial abdominoplasty may be performed.
Liposuction Surgery
Liposuction currently ranks as the most popular cosmetic surgery procedure in the US. Innovations in this procedure have made it less invasive and more targeted to achieve the desired body contours with minimal risk and reduced downtime.
Tumescent liposuction is a common technique to perform this procedure using only local anesthesia. If a larger amount of fat reduction is needed, the cosmetic surgeon may go for traditional liposuction surgery to remove stubborn fat tissue. Dr. Parker receives patients from Las Vegas and nearby areas for this procedure.
Ultrasound-Assisted Liposuction
Liposuction surgery can be performed using ultrasound technology to make the procedure less invasive. Ultrasound waves are delivered directly to the deeper layers in the targeted area. Thermal heat generated in this gentle process enables the melting of fat, which is then suctioned out in a less aggressive manner. Ultrasound assisted liposuction can be performed using smaller incisions, resulting in faster recovery and less scarring.
Venus Freeze
Venus Freeze is a cutting-edge non-surgical technique that involves a unique combination of multi polar radio frequency (RF) energy and magnetic pulse fields to produce an effective degree of skin tightening and fat reduction. This advanced body contouring procedure is designed create a synergistic impact by combining multiple energy sources. This approach distinguishes Venus Freeze from other body contouring options and creates more even looking outcomes.
CoolSculpting
CoolSculpting is one of the more popular non-invasive body contouring treatments. This FDA cleared procedure is almost entirely painless, involves no cuts or needles, and does not require any specific recovery period. The innovative cooling process of CoolSculpting has been developed by Harvard scientists. It exposes the targeted area to a cold temperature, leading to the freezing and eventual disintegration of unwanted fat cells to reveal smoother and thinner body contours.
If you would like to learn more about the plastic surgery procedures and treatments performed by Las Vegas Plastic Surgeon, Dr. Brian J. Parker by contacting us at (702) 240-9500.