lvplasticsurgery.com/blog: An In-depth Website on Plastic Surgery in Las Vegas
lvplasticsurgery.com/blog is an authoritative online resource on the latest cosmetic and reconstructive surgery procedures. The website has been launched by Dr. Brian Parker, the founder and medical director of Parker Plastic Surgery and Aesthetic Solutions in Las Vegas. The goal of lvplasticsurgery.com/blog is to inform and educate people in and around Las Vegas about the latest and innovative cosmetic surgery treatments that can help them achieve the desired physical appearance.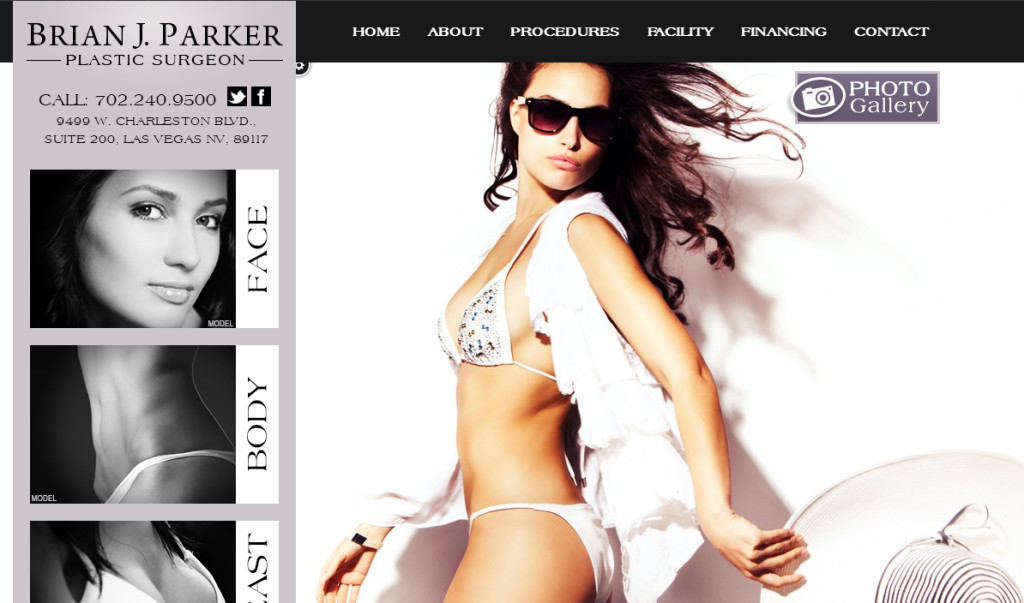 Website design by http://creativetakemedical.com/
Dr. Parker has made every effort to create a single, comprehensive resource that contains useful and reliable information about various surgical as well as non-surgical cosmetic enhancement procedures. The website is freely accessible to all, and it carries enough insightful information to help potential patients make up their mind about plastic or reconstructive surgery treatment.
Section on Dr. Parker's Profile
lvplasticsurgery.com/blog has provided an exclusive section with detailed information on the education qualifications, training, experience, and achievements of Dr. Brian Parker as a plastic surgeon in Las Vegas. New and potential patients who are keen to know about the credentials of the surgeon can familiarize themselves with Dr. Parker even before they meet up with him for an initial consultation. For the success of any plastic surgery procedure, the choice of the surgeon makes a key difference.
Through this section on lvplasticsurgery.com/blog, new and potential patients can make a better informed decision about visiting Dr. Parker for a consultation. Dr. Parker hails from a family of medical professionals that has served the community in Las Vegas since 1960s. He received his degree in medicine from the Chicago Medical School, and followed it up with an internship and residency training in general surgery from the University of California, Los Angeles (UCLA). He further received training in plastic and reconstructive surgery from the University of Wisconsin.
Sections on Office, Staff, and Facilities
Dr. Parker's website provides a virtual tour of the practice to a new patient even before he or she has visited the office. New patients can review the website to know in advance what to expect when they visit the office in person for consultation and treatment. A dedicated section on office details informs about the days and timings for Dr. Parker's consultation each week as well as the days for surgery each week. It provides information about the staff at the office to reassure new patients about what kind of professional, friendly, and personalized care and service they can receive at the cosmetic surgery practice of Dr. Parker.
A separate section on the facilities available at the practice is also included on the site. It provides an overview of the three state of the art operating rooms, latest equipment, and technology that is employed to achieve safe, proven, and effective results. The section also includes images of the facilities to allow a new patient to develop or concoct a clearer idea of what to expect at Dr. Parker's office.
Sections on Procedures
lvplasticsurgery.com/blog provides separate web pages for each surgical and non-surgical procedure provided at the practice. Patients can receive useful and relevant information about various treatment options available to them, and make informed decisions. When a patient has a fair understanding of the pros and cons of each treatment option and its suitability to achieve their aesthetic goals, it helps in making a more effective decision on plastic surgery in consultation with the surgeon. The following procedures are discussed in detail on Dr. Parker's website lvplasticsurgery.com/blog:
Face
Eylid Surgery
Ear Reshaping
Facelift
Forehead Lift
Rhinoplasty
Body
CoolSculpting
Liposuction
Spider Vein Removal
Tummy Tuck
Ultrasound Liposuction
Skin Tightening
Breast
Breast Augmentation
Breast Lift
Breast Reduction
Skin
Botox
Dermal Fillers
Fraxel
Laser Skin Resurfacing
Laser Hair Removal
Skin Care Program
Section on Financing and Payment Options
Dr. Parker has been thoughtful enough to include a detailed section on various financing and payment options available to his patients in Las Vegas. The section talks about insurance coverage so that patients know what may or may not be covered by insurance, and be prepared to finance their own treatment as most elective procedures may not have the benefit of insurance coverage.
An overview of the costs of a surgical procedure and how patients can receive price quotes for a particular treatment is provided on the website. Payments options such as cash or credit card, cash discounts, and financing options are discussed in this section. It helps significantly to have some proper financial planning in advance before going ahead with a procedure. Dr. Parker's website also includes separate sections for a blog and photo gallery to provide more useful information through regular blog updates and images.